Fortran Wiki


Fortran 2003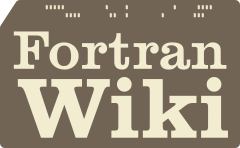 Features
Fortran 2003 is a significant revision of the Fortran 95 standard. Some of the major new features are
Parametrized derived types.
Object-oriented programming: type extension and inheritance, polymorphism, dynamic type allocation, and type-bound procedures.
OS integration: command-line arguments and environment variables.
Compiler Compliance
See Fortran 2003 status.
gfortran
See GCC:Fortran2003 and GCC:Fortran2003Status.
Intel
See the article on support for Fortran language standards.
NAG
NAGWare f95 Compiler Release 5.2 Release Notes
See Also
Fortran 2003 Standard
Although the official Fortran 2003 standard must be purchased from the ISO, the Draft International Standard produced by the committee is freely available. This document is ISO/IEC JTC1/SC22/WG5 N1601 (gzip compressed PDF) dated May 3, 2004 (the equivalent J3 document is 04-007).
References